Description
Sail Into Holiday Cheer
Begin your holiday season with a relaxing cruise along the scenic Danube River, stopping at traditional Christmas markets in Vienna, Regensburg, Passau, Rothenburg and Nuremberg. Nuremberg is home to one of the oldest and largest Christmas markets in the world, and is famous as a toy making center, known for its fanciful nutcrackers and Lebkuchen (gingerbread). Enjoy a German holiday party with mulled wine, referred to as a Glühwein Party. Float through the Wachau Valley dotted with castles and small riverside towns. Discover Würzburg, an ancient Franconian wine town. Delight in the fairytale, Baroque architecture in Passau. In Vienna, join a local expert in exploring the historic sites where you'll indulge in the city's atmosphere of opulence and elegance. Visit the 900-year-old Benedictine Melk Abbey, one of Europe's largest Baroque monasteries.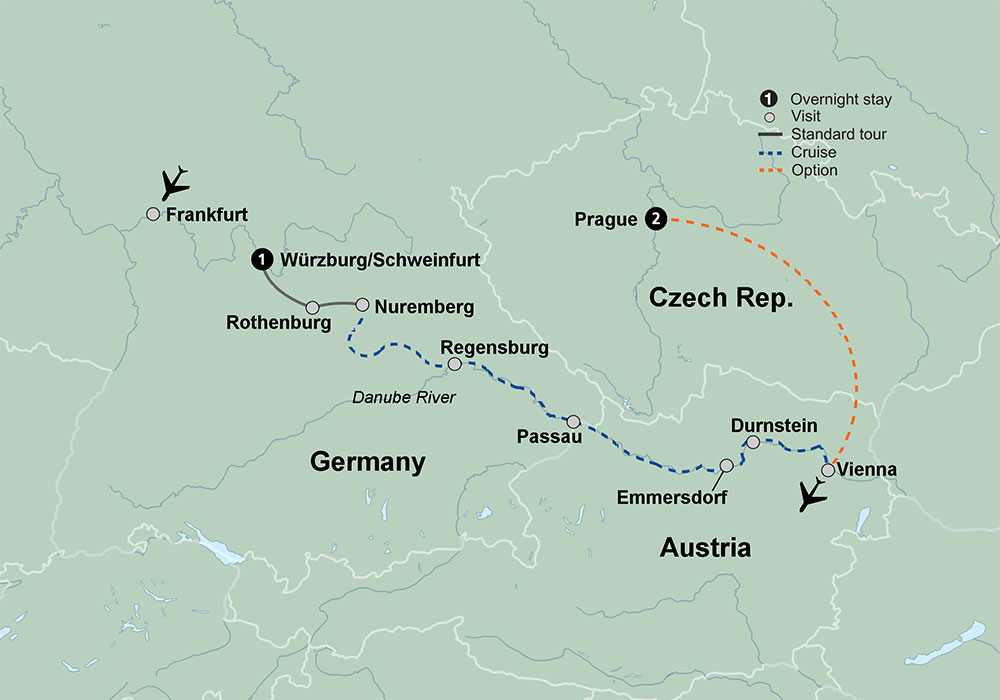 Browse in the famous Christmas markets along the Danube.
Join a local expert as you explore Vienna, Regensburg, Nuremberg and Würzburg.
Explore the 900-year-old Benedictine Melk Abbey.
Must-See's
Experience the most picturesque region of the Wachau Valley.
Explore Regensburg, home of the first stone bridge built over the Danube.
Enjoy a walking tour of Passau, a 2,000-year-old fairy-tale city.
Culinary
Enjoy unlimited wine and beer with every dinner onboard your cruise ship.
Attend the Captain's Gala Dinner.
Includes 7 Breakfasts, 5 Lunches & 7 Dinners